About us
The Chinese People's Association for Friendship with Foreign Countries (CPAFFC) is a national people's organization engaged in people-to-people diplomacy of the People's Republic of China. The aims of the Association are to enhance people's friendship, further international cooperation, safeguard world peace and promote common development. On behalf of the Chinese people, it makes friends and deepens friendship in the international community and various countries around the world, lays and expands the social basis of friendly relations between China and other countries, and works for the cause of human progress and solidarity. It implements China's independent foreign policy of peace, observing the Five Principles of Peaceful Coexistence, while carrying out all-directional, multi-level and broad-area people-to-people friendship work to serve the great cause of China's peaceful development and reunification and contribute to the building of a harmonious world of lasting peace and common prosperity. In launching its activities, it has support from the government and assistance from all sectors of the society. It has set up 46 China-regional or China-national friendship organizations and established relationship of friendly cooperation with nearly 413 nongovernment organizations and institutions in 157 countries.
Main tasks of the CPAFFC include:
■to carry out people-to-people friendly contacts with other countries by organizing exchange of visits of delegations, holding commemorative activities, initiating and hosting exchange activities including seminars, talks, forums to enhance mutual understanding, build up trust and develop friendship with people of other countries;
■to promote international cooperation by establishing contact mechanisms, building cooperation platforms and furthering pragmatic cooperation in economy, science and technology, personnel and other areas to create favorable conditions to achieve win-win results and common development;
■to effect people-to-people cultural exchanges by dispatching or hosting cultural groups or personalities on friendly visits and sponsoring performances or exhibitions to promote learning from each other in the cultural field and enhance understanding and friendship;
■entrusted by the government, to coordinate and oversee the work of establishing and developing friendship-city relations between China and other countries and promote exchanges and cooperation between their localities and cities; as a member of United Cities and Local Governments, to participate in international cooperation on behalf of Chinese local governments;
■as a nongovernment organization in general consultative status with the U.N. Economic and Social Council, to take an extensive part in U.N. affairs, actively participate in the exchange activities of other international nongovernment organizations to effectively communicate information about China;
■to develop the force of people-to-people friendship between China and other countries by establishing China-regional or China-national friendship organizations, keeping contacts with friendship-with-China organizations in various countries, and conferring separately upon organizations or personages that have made important contributions to people's friendship the honorary title of Friendship Ambassador or the Award for Contribution to People's Friendship; the honorary title of China-national Friendship Envoy or the Award for Contribution to China-national Friendship;
■to engage in the cause of safeguarding world peace and common security of humankind and support the people of various countries in their just struggle to achieve national development and social progress and defend sovereignty and security; and
■to carry out other activities for friendly cooperation between the Chinese and other peoples.

The CPAFFC was founded on May 3, 1954 on the initiative of ten national public organizations. It was first called the Chinese People's Association for Cultural Relations with Foreign Countries. It was renamed the Chinese People's Friendship Association for Cultural Relations with Foreign Countries in 1966. Since 1969, it has been known by its present name. It is located in Beijing. Local associations for friendship with foreign countries have been set up in all the provinces, autonomous regions and municipalities directly under the Central government, and in a number of cities, districts and counties.
The National Council of the CPAFFC convenes every five years, at which the president, vice presidents and secretary-general are elected to form the Executive Council. The Tenth National Council was convened in May 2012, and Mme. Li Xiaolin was re-elected CPAFFC president.
On April 9, 2020, the Chinese People's Association for Friendship with Foreign Countries National Council held its Executive Council conference to pass a decision that Lin Songtian, former ambassador extraordinary and plenipotentiary of the People's Republic of China to the Republic of South Africa, succeeds Li Xiaolin as member of the Executive Council and president of the Association.
---
Inside the CPAFFC
Main Building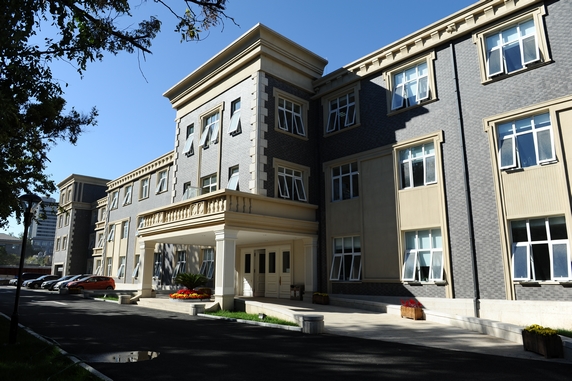 Office Building

Auditorium


Friendship Hall

Peace Palace